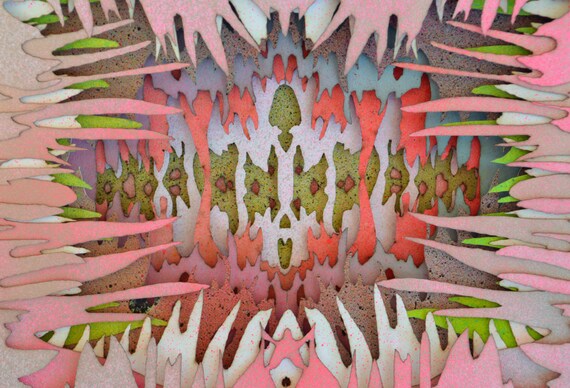 Magnetic Sphincter II (10"x8"x1") is part of the Magnetic Sphincters mini-diorama series. The imagery is based on views of underwater caves as well as the views that may now be seen while "spelunking" human arteries through the use of new microscopy tools such as optical frequency-domain imaging (OFDI) devises. As is the case for many of my projects and curiosities, this body of work explores the idea of seeing similar patterns in various levels of micro and macrocosms.
To make this work I created hand drawings for each layer. I then recreated these images in illustrator and cut out the outlines using a laser cutter. I then matched up layers of various contrasting colors and patterns and arranged them within inch deep frames. The papers used are various colors and thicknesses of fine art rag, stationary, and Japanese papers that were spray painted, drawn on, and watercolored before cutting.
They come in white frames. Other frames may be used upon request. This request must be made prior to ordering so that the diorama can be recreated in a new frame. Costs will vary.
A $10 packing fee is included in pricing.